Congrats, you're all signed up to be notified when COLLABORATE: The New Rules for Launching a Business Online is available later this year.
Until then, watch this GIF while listening to Goodbye Horses by Q Lazzurus: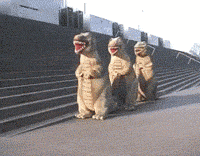 Oh, and if you're interested in more free content on how to build and launch products, here are some of my most popular articles:
Lean Launch: How to Sell an Idea Before You Build It (a $41,000 Case Study)
11 Books Every Entrepreneur Should Read
14 Apps to Let You Build a Business from Anywhere in the World
Oh, and if you enjoy all this, you should join The Resistance, a group of 3,000+ creative insurgents disrupting the status quo.
I Want Access!
We respect your privacy and will never sell your information. Not even to the NSA.