[ecourse] bestseller book launch - day 1 of 8
- day 1 -
102 Billion Reasons to Start Publishing Today
Did you get here from a link from a friend? To get access to all the content, make sure you sign up for this free training right here.
Hey, Tom Morkes here.
Just wanted to start by saying thank you for signing up for my free course:
"Zero to Bestseller: Learn How to Launch Your Book to Bestseller"
If you haven't had a chance yet, I love to connect with and say hi to new students.
If you want to say hi, LEAVE A COMMENT at the bottom of the page (I try to read and reply to every comment!).
This course has been a long time coming, and I'm excited to share a lot of great things I've learned over the past decade as an author, publisher, and marketer who has launched multiple bestsellers, and helped dozens of authors create, package, and monetize* their writing.
*I say monetizing, because launching a book to bestseller is just one way to make money from book publishing, but there are many other ways beyond book sales...but we'll talk about that more later.
Before I get to the meat of today's article (and the 102 billion reasons you should start publishing), I wanted to share my story with you, because I think you'll find that if I can do it, anyone can do it.
So here goes.
From War to Publishing
I spent my entire adult life (until recently) in the U.S. Army.
In high school, I applied and was accepted into The United States Military Academy at West Point. After 4 years of grueling training (at least for me), I commissioned as a 2nd Lieutenant in the U.S. Army.
For the next 5 years I served in the Army, including 12 months as a convoy security platoon leader in Iraq.
While I was proud of my service, I knew I wanted something more out of life…
In my last year in the Army, I started thinking hard about what was next.
I knew I didn't want a corporate job, which would have basically been the same work I was doing, minus the boots and guns…
And I also knew that I wanted to pursue something creative…where I could really get my hands dirty in fun projects that really make a difference in the world.
I've also always had a passion for books and storytelling…
Naturally, I decided to start a blog and start writing publicly (or at least to the 10 people who followed my work).
Over the course of my last year in the Army, I wrote and published 2 books. The first, The Art of Instigating, I gave away for free.
The second, Notes From Seth Godin's Revolution Conference, I decided to give away for free…with a twist: I made it pay what you want.
This meant people could grab it for free or they could put some money in the tip jar, so to speak…
Within 30 days of sharing my book with my small audience of 166 subscribers I made $500.
To say I was blown away is an understatement.
This single project taught me 3 important lessons:
It's possible to make money from creative work
People will pay for books – you just have to write a good book and find the right people to share it with
People will pay even when they don't have to
In this email course, we're going to talk about 1 and 2 in depth (#3 I talk about in a different course I created, you can check it out here).
After this experiment, I left the Army and doubled down on writing.
My next book, The Complete Guide to Pay What You Want Pricing, explored the topic I was so fascinated by after my foray into generosity based pricing.
At launch, I made $1,000…and over the course of the next year another $6,000 from this single book.
This book still makes money for me today with no effort on my part(this is an advanced strategy that I'll touch on later in this course).
With my most recent book, COLLABORATE, I decided to try something a bit different – crowdfunding.
Crowdfunding lets readers commit money to a project before it launches. If it doesn't fund, it doesn't happen.
My minimum funding goal: $7,500.
To be honest with you, I wasn't sure if I would hit my minimum funding goal. I actually thought I was a bit of an idiot to even attempt something like this.
Who am I, after all, to ask for people to pay money for something that didn't exist yet?
As it turns out, a lot of people wanted to support me.
I ended up raising $12,979.00.
That's 174% of my original funding goal.
$12,979.00 BEFORE I wrote one word of my book.
4 Massive Launches That Anyone Can Pull Off...
I don't share these numbers to brag, but to show you that you can make money from your writing (or the writing of others), even if you're starting from nothing.
Now some of you might be thinking: "Well, Tom, so what? That's not that much money and all those launches could just be luck."
Okay, guy who sounds like me, fair enough.
The good news is, I don't just write and sell my own books - I also publish other people through my boutique publishing company: Insurgent Publishing.
And today, I want to share a few examples of books that I've helped launch to even bigger success using the framework I'm going to teach you in this free course:
#1. 12,000 Downloads in 1 Week (and bestseller ever since)
Dan Norris is the author of The 7 Day Startup and co-founder of WPcurve.com. We used this framework to launch Dan's book, which broke Amazon's top 100, hit #1 in Startups and #1 in Small Business categories (paid), and stayed there quite a while. 7 months later and you'll still see Dan hovering next to Eric Ries and Peter Thiel – startup royalty, if you're not familiar.
Because Dan is very generous and transparent, he has shared some statistics with us:
The book has been downloaded over 20,000 times
The book has over 200 5-star reviews
The book is being translated into 3 languages
The book sells about 40 – 60 books a day on average
$100,000+ from book monetization since launch
If you do the math for that last one, that means about $5,000 in sales a month from a single book that Dan doesn't actively promote at all.
All because we launched the book the right way, using the right framework…
#2. From No Audience to #1 Bestseller
David Nihill is an entrepreneur turned standup comic turned author of Do You Talk Funny?
I worked with David to launch his first book Do You Talk Funny?
During our first call, when I asked David about his email list he told me in his thick, Irish accent: "I have no list. I don't even know what a list is."
Over the next 30 days we built David's list up to 300+ and launched his book to #1 in the hyper competitive Public Speaking category.
More than a month later and it's still #1 and selling great, and has landed him media appearances in Inc., Art of Manliness, and many other major media outlets.
All of this we did starting with NO AUDIENCE.
#3. The $5,000 / Month Sales Funnel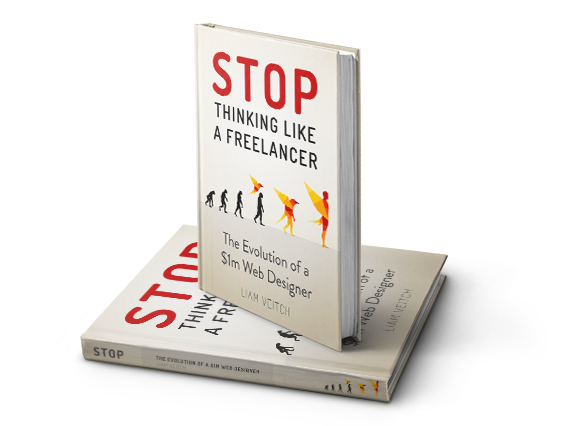 Liam Veitch is the founder of Freelancelift.com and the author of Stop Thinking Like a Freelancer.
Liam's situation was a bit different than both David and Dan. Instead of just focusing on book sales, we made a concerted effort to turn the book into a lead generator for his premium mastermind program.
After all, if people enjoy Liam's book, there's a high likelihood they'd like to work with him in some capacity.
The tricky part was moving readers of his book over to his website….
Well, we figured out a solution, and when Liam launched to bestseller (using the framework I'm teaching you in this course), it immediately drew in hundreds of subscribers to his blog and dozens of new paid members to his mastermind program.
Note: this is an advanced technique I'll teach you later in this course.
#4. One Book that Brought in $10,000 in New Client Work
Cas McCullough is a content marketer, entrepreneur, and author of Your Brilliant Uncareer.
Cas came to me looking to expand her client business through her new book.
Our strategy was to get her to the top of the charts in Women in Business category, giving her name (and therefore, business and services) more reach, as well as helping her build her authority brand in the content marketing space (books are GREAT for this).
After hitting #1 in the Women in Business category during launch, Cas received wonderful feedback about her book.
Even better: several people who read the book immediately asked to work with Cas, generating over $10,000 in new client work.
Not bad for a first try, right?
How Would it Feel if This Were You?
How would you feel if you had a book bringing in $5,000 a month passively for you?
How would you feel to go from no audience to a platform of thousands with a single book launch?
How would you feel to get $10,000 or more in new client work from one book launch?
These aren't rhetorical questions.
The examples I've shared with you are real results from real people…and they're not exclusive to these authors.
The worldwide publishing industry is a $102,000,000,000 industry (that's billions, annually).
If you could tap into a fraction of a fraction of this, say one one-hundredth of a percent, you'd make $102,000.00 this year.
And many people are doing just that...
The good news is: anyone can generate similar results to myself and the authors mentioned, as long as they have:
a good* book
the right strategy
In this course, I'm going to give you that strategy, wrapped in an easy to follow framework (you're responsible for the quality of your book, though).
*note: these strategies are powerful and can even work for bad books, but I don't believe the world needs more of those. As with anything of great power: tread carefully and use wisely.
Next Lesson (important!)
In the next lesson, I'm going to share something very powerful with you...
It's a tool that will single-handedly set your book up for success and help you reach bestseller status (if that's your goal).
This is not hyperbole – I mean it.
The tool is something that Silicon Valley tech startups use to get traction, customers, and crazy growth, and it's something I've adopted for the book publishing world. I don't know of a single other author or publisher teaching this stuff, but I promise you – they all will be soon.
And next lesson, I'm going to walk you through exactly how to use this tool.
I'll see you next lesson.
- Tom Morkes
CEO, Insurgent Publishing
Creator of PublishersEmpire.com
p.s. keep your eye open in your inbox for an email titled: [Day 2] What Every Bestselling Book Has in Common
(in the next lesson I'm going to show you a tool that Silicon Valley tech startups use to generate millions in revenue and I'm going to show you how to apply it to book marketing...stay tuned)
Your Turn - Share Your Book and Join the Conversation!
For your homework, I need you to do only one thing...
In the comments below, please let me know:
What type of book are you working on (or what type of book do you want to start working on)?....And what is your biggest insight from today's lesson?
Are you excited to publish a bestselling book?
Would you like to drive $10,000+ in new client revenue to your existing business?
Do you want to be a thought-leader or even a highly respected storyteller (and get paid for it)?
Share in the comments below (I read and respond to all of them).