Last year, I did my first ever year in review.
That was a really fun, albeit time-consuming essay to write...
And this year's year in review (or After Action Review, as I like to refer to it) was no different.
2015 was a jam packed year and 2016 is off to a crazy start, so this essay took me many hours to write.
My hope is that you can learn from my successes and my failures.
But before we get to this year's review, I want to explain WHY I do these.
Why You Should Write Your Goals Down...and Measure Your Results
This essay took a while to write. That said - I'm so glad I wrote it; and I encourage you to review and write down your reflections for the past year.
Here's why:
Because in time, you will forget what you did, no matter how sharp you think your memory is (in fact, I had a hard time remembering all my projects from this year alone, let alone last year, which seems like another life ago)
Because you can only improve if you learn; and you can only learn if you measure; and you can only measure what you track - so write it down!!
Because you will be more proud of yourself in the present if you can properly, and unbiasedly, reflect on where you came from (an After Action Review will help you do just that).
Because it's therapeutic (even though I suffer from the intermittent self-hate and depression that only those of Irish blood can relate to, I find reviewing my progress and writing new goals, whether I reached them or not, an inspiring process)
Bottom line: conducting a year-end After Action Review (AAR for short) is a great thing for anyone and everyone to do. So go, do it now if you haven't (and share in the comments your wins from last year and goals for this next year).
A Slight Variation on this Year's AAR
Last year, my AAR consisted of a single evaluation of my entire business / life / projects.
This time, I wanted to give a bit more reflection to individual elements of what I've done, so I'm conducting a series of area-specific AAR's for this past year, and my overall goals for 2015.
I hope this makes it easier to follow and understand what went well and what didn't go well in each area (as well as where I hope to improve)
If you don't know what an AAR is, I explain it in more depth in last years AAR here.
Check that out if you're curious about conducting your own AAR.
For now, just understand that an After Action Review is conducted by answering the following series of questions for a particular event, project, or mission:
What was supposed to happen?
What did happen?
Sustains (what worked that you want to keep doing)?
Improves (what didn't work that you want to stop doing or improve)?
Alright, now that admin is out of the way, let's get to it...
2015 After Action Review
So to begin my 2015 AAR, I want to establish what was going on in my life at the end of 2014.
I went into 2015 pretty pumped up.
According to my 2014 AAR, my goals for 2015 were:
Travel around the world…again (Philippines, Thailand, Laos, Cambodia, Scotland, England, Ireland, France, Italy, Croatia, Greece, and Iceland – projected)
Double my income from 2014
Free up more time for relaxing and enjoying life while simultaneously focusing on fewer projects with a bigger return
Basically, I wanted to double down on all the stuff that worked, scrap all the things that didn't, and do that while traveling to a ton of places I've always wanted to go.
So...
Did it happen?
Let's find out...
Travel
Background: Around the World and Back Again (and Again)
In 2014, (end of 2013, actually), Courtney and I embarked on an around-the-world trip. This was straight after I left the Army. We ended up hitting a dozen amazing countries (that we documented here).
At the end of that trip, we both had the travel bug.
Luckily, because things went so well in 2014, we decided to do another year abroad, this time with a SE Asia + Europe focus (two places we really wanted to explore).
What was supposed to happen?
Before 2015 started, we committed to doing another trip, but this time we did it without buying a single around-the-world plane ticket. Instead, we mapped out countries that we wanted to visit, and then bought tickets as we went. Here's our original plan:
Philippines
Thailand
Laos
Cambodia
Scotland
England
Ireland
France
Italy
Croatia
Greece
Iceland
What did happen?
We generally hit up all the countries we thought we'd hit, save for a few changes. Here's where we traveled:
Philippines (1 month: yoga in Manila, spelunking in Sagada, beach and white russian's in Bohol)
Thailand (2 months; muay thai in Ko Tao, yoga in Ko Pha Ngan, business in Bangkok, chilling in Chang Mia and Pai)
Vietnam (Saigon, spelunking in Phong Nha, cruises in Ha Long Bay, and Hanoi)
Laos (Vientiane, Vang Vieng, Luang Prabang)
Cambodia (Siem Reap)
Scotland (picked up my sister from her semester abroad to do a road trip; Edinburgh and Isle of Skye
Holland (Amsterdam)
Ireland (Dublin, Cork, Dingle, Galway)
N. Ireland (Bushmills DIstillery, Giant's Causeway, and the Dark Hedges)
Italy (Naples, Pompeii, boat cruise around Rome, Florence, Siena for Il Palio - straight epic, wine tasting in Tuscany, Cinque Terre, Venice)
Croatia (all over)
Iceland (the whole island living out of a car...totally worth it)
We ended up hitting 12 countries like we had planned, but instead of France, we hit up Northern Ireland and extended our time in Italy, made a detour to Amsterdam, and scrapped Greece because it looked like a mess at the time, replacing it with Croatia. Both were good choices.
When we finally landed back in the states, I had a chance to attend an event hosted by Danny Iny in Austin, TX, and met up with some rockstars, like Patrick Vlaskovitz (bestselling author of The Lean Entrepreneur), and a couple amazing authors and clients, including Ash Maurya and Sujan Patel.
If you're into travel and my beautiful face, here's a selection of tmorkes Instagram's from this year:
For tons more pictures and great advice on travel hacking, check out FarAwayReasons.com.
Sustains
Keep travel a part of our lives
Structure my life so I can always be location independent
Improves
Slow down the travel (longer time in fewer locations; ideally 1 month or more)
Focus on business travel as much as possible (there's almost always a reason to be traveling for my business, so I want to take advantage of that and choose the right locations)
Honestly, that's all I've got...we had an absolute blast and enjoyed all the locations we went to; I would not have done anything differently.
Travel Goals for 2016
By the end of 2015, we felt like we should start looking for a place to plant roots. Travel is fun and addictive, but I've been wanting a place to put my stuff (outside of a storage container or on my back). Because of some fortuitous events, we landed in the Aspen, Colorado area, and I now finally have a stand-up desk, ergonomic keyboard, three monitors, and a Jura (Morkes Coworking Space); a home gym (Morkes Fight Club); and a mountain pass so I can finally learn to snowboard.
As passionate as I was about travel before, I'm equally passionate about my setup now. That said, we still have a couple trips planned for 2016 including:
San Diego (for The Freedom Journal launch party...which we did do - so already off to a succesful year!)
Bali (for an Insurgent Publishing team retreat and one of my favorite places in the world)
England and France (friends and wine tasting, naturally), and to any place where people want me to speak. In fact, if you want me to speak, hit me up here and let's talk.
Time Spent Working
I use Toggl.com to track my time.
I started using Toggl at the beginning of last year and it's one of the best decisions I've ever made. Here's why:
It's completely free to use for the standard service (if you want to bill clients, you'll need to upgrade).
It's one of the best pieces of software ever for productivity, because once you start tracking your time on a per-project basis, you stop wasting time on stupid s***. The clock is ticking: get to work.
It's a powerful (and fun) way to look at ROI (return on investment). Did you spend too much time on email? How much revenue did you make from spending 300 hours on project X? Was it worth it? etc.
If you don't use Toggl - start using it. Today. Thank me tomorrow.
Now, onto how I did this year regarding time spent working...
Background: Total Hours Worked in 2014
In 2014, I worked 1,939 hours, for an average of 37 hours per week (assuming I worked every week of the year...which I did). I was very comfortable with this amount of work - never too much, not too little.
What was supposed to happen?
For 2015, my goal was to "maintain this amount of hours per week - or less - and double the impact I'll make...personally, professionally, and creatively..."
What did happen?
Total Hours Worked in 2015
In 2015, I worked 2316 hours, for an average of 44.5 hours per week, (assuming I worked every week of the year...which I did).
Change in weekly work hours
+ 372 hours of work in 2015
+ 7 hours per week on average
Sustains
The ability to work on projects I enjoy
Flexibility in my work hours (I work every week and almost every day of the week, but some of those days are only a couple hours of work, which I prefer to really long work days)
The amount of weekly hourly work (44 hours per week seems pretty healthy - even though I know this does not actually capture all the work I spend on everything because often I only track focused hours, I thought it was a good amount of work while still enjoying travel, etc.)
Improves
Reduce hours of work spent on low-value activities (luckily I've outsourced more and more of these, and I began the hiring process in 2015, which has been clutch...more on that later)
Try to have at least one day a week off (Sundays) to relax and pursue personal hobbies and activities (this is tough though because I really enjoy what I do - but I still think it's healthy, so I'm going to try it out)
Did I achieve my goal?
Not quite. I think I did pretty well, but think I could still improve my efficiency.
Time Goals for 2015
The 44 hours per week I tracked through Toggl are focused hours.
This is not how most people track their time, which is more like counting total hours between clocking in and clocking out.
I have the good fortune of having a job that does not allow me to pass the time ideally.
If I want to provide value to others, and capture a bit of it for myself, I must be productive.
44 hours of focused time really means something closer to 60 to 80 hours of time in front of my projects (from checking email - which I mostly don't track - to brainstorming and planning sessions, to doing miscellaneous project management work which can't be categorized properly in Toggl, so I sometimes skip it).
I think if I can maintain focused hours between 40 and 50 hours, and decrease the time-in-front-of-computer time to 65 or below hours per week, I'll have reached a fairly optimal output.
To do this, I may start tracking in-between-time on Toggl with a non-project related color and task label, which would help me realize how much time I'm devoting to email and other things (which can still be mission-critical, but not something I like to do).
Audience Growth
In 2015, one of my major goals was to increase the size of my audience, in particular subscribers to my newsletter.
To do that, I needed to:
figure out a way to get more people to visit Tommorkes.com
convince those people to sign up to hear more from me
provide consistent, quality content to keep them coming back for more
That's why for audience growth I'll take a look at traffic, sign ups, and conversion rate (calculation of total signups and traffic) as a whole, and then dive into how I was able to affect these numbers.
Let's get to it...
Traffic
Background: Total Traffic to Tommorkes.com in 2014
In 2014, I had 25,247 unique visitors to Tommorkes.com.
What was supposed to happen?
For 2015, I stated that, while I would measure traffic for my AAR, it was an essentially irrelevant metric for me because that's not the type of website I'm running. I'm not selling ad space, so volume is much less relevant for me than quality.
The RIGHT people visiting my website are worth 100x (at least) than people who don't know (and don't care) what a digital product is.
That's why I would have been fine getting about the same amount of visitors, and a consistent amount of repeat visitors.
What did happen?
Total Traffic to Tommorkes.com in 2015
In 2015, I had 47,629 unique visitors to Tommorkes.com
Change in traffic to Tommorkes.com
+22,382 visitors
+188% growth
Did I achieve my goal?
Yes - but not really too concerned about it. I didn't really care about traffic to begin with - my opinion remains the same.
Traffic goals for 2016
I don't really care what traffic is; more important that I get the right traffic...but I'll say I'd like to maintain or grow this amount of traffic, and increase search traffic (I've spent literally $0.00 on traffic, and that will also remain the same).
Subscribers
Background: Total Subscribers to The Resistance in 2014
In 2014, I ended the year with 2,670 subscribers.
What was supposed to happen?
The goal I set for 2015 was to grow The Resistance by 2,500 more people and clear 5,000 subscribers. I also said that it would not be my main focus, as I wanted to refocus my time and energy into other parts of my businesses (more on that later).
What did happen?
Total Subscribers to The Resistance in 2015
In 2015, I ended the year with approximately 5,900 subscribers (this picture was taken on the 4th of January, so I subtracted about 77 subscribers, which seems about right).
Subscriber change
+3,230 subscribers
+221% growth
Did I achieve my goal?
Yes! Very excited to see so many people sign up to hear more from me. I thought it would be an eternity before I ever hit that number, but it happened a lot faster than I expected (only about 2 years considering 2013 I essentially kept the blog a secret).
Subscriber goals for 2016
I want to triple this number to 15,000 subscribers.
I actually have a few projects coming up that should end up generating 10's of thousands of subscribers, so I may very well end the year with 50,000+, but I like to aim low so I can't lose ;D
Optin Rate
Background: Optin Rate Conversion in 2014
In 2014, Tommorkes.com welcomed a total of 25,247 unique visitors, and 2,273 of them decided to sign up to hear more, for a conversion rate of 9%.
What was supposed to happen?
The goal I set for 2015 was to get that number to 20% (in other words, getting 1 out of every 5 people who visit my website to join The Resistance).
What did happen?
Optin Rate Conversion in 2015
In 2015, Tommorkes.com welcomed a total of 47,629 unique visitors, and 3,230 of them decided to sign up to hear more, for a conversion rate of 6.7%
Optin rate conversion change
-25%
Did I achieve my goal?
Not even close...but then again, this may not be the most appropriate way to track these numbers. For example, about 40% of those unique visitors are return visitors, meaning they most likely already opted in (most likely, but no guarantee).
If you remove 40% of those visitors, you're left with 28,577 new visitors. If 3,230 of those signed up, that's a conversion rate of: 11.3%, or 125% growth in conversion.
That seems more realistic to me, but also isn't 100% accurate.
Optin rate goals for 2016
Suffice it to say, I still want to increase this number to 20%.
Many of my optin forms convert anywhere from 2% (end of blog optin forms...need to improve that, stat), to 40%+ (Pay What You Want Crash Course). This will be something I optimize as we go forward, but takes a back seat to product launches for Insurgent Publishing.
Content Creation
Background: Total Writing in 2014
In 2014, I wrote:
32 blog posts for Tommorkes.com
10+ guest posts, mostly focused around Pay What You Want pricing
An estimated 150,000 - 200,000 words
My most popular content:
What was supposed to happen?
The goal I set for 2015 in regards to writing was to average 2 high-quality blog posts on Tommorkes.com per month (total of 24 articles), with a focus on content creation for books and courses. My other goal was to maintain a very high average "time on page" because I felt that time on page was an indicator of quality content creation (after all, if what I create is useful, people will spend more time with it).
What did happen?
Total Writing in 2015
13 blog posts
Wrote Collaborate (60,000+ words - but went through several complete rewrites for something probably closer to 100,000+ words)
Created Publishers' Empire (50,000+ words of content and over 100 videos)
Guest posting...basically zero
My most popular content (removing courses and main pages, like the home page, blog, etc.):
Writing change
- 19 blog posts
+ 1 book
+ 1 course
- 10 guest posts
- 15% time on site
Did I achieve my goal?
Nope - way below in terms of blog posts, and time on site was lower...but when you consider that I probably spent 1/10th the time on that, the results are pretty impressive (and allowed me to focus my time on income producing work - more on that in the Projects section below)
Content creation goals for 2016
I want to produce at least 2 blog posts for The Resistance every month, and I want to spin off my publishing work into it's own unique entity (either housed under InsurgentPublishing.com or PublishersEmpire.com), and publish 50+ in-depth blog posts in and around that subject.
I have a ridiculous amount of content (templates, strategies, checklists, and more) around book publishing, product launches, etc. - but I hesitate to publish on Tommorkes.com because, well, that's not the sole focus of the site. I want Tommorkes.com to become a place for people to learn business and marketing strategies in general, with the occasional blog post about publishing when relevant. That's kept me from sharing all the sweet juice I have in my brain. But in 2016, when I spin off a new unique blog, that will no longer be the case.
More to follow on that in the coming months...
Miscellaneous Marketing and Promotion
Background: Total Platforms I Was Featured or Interviewed on in 2014
I actually did a sub-par job tracking this. I estimate that I was on over 30 podcasts in 2014. Many of these podcasts were focused on Pay What You Want Pricing (because my book "The Complete Guide to Pay What You Want Pricing" had just come out the fall of 2013 and it was a very hot topic).
Some of my favorites included:
Growthhacker.tv - to be featured next to the founders, CEOs, and lead marketers of companies like Twitter, Dropbox, and beyond is humbling to say the least. And now I can can call myself a growth hacker, which is fun.
WPCurve.com - co-wrote this article with Dan Norris to show how we made "The 7 Day Startup" a huge success
EntrepreneurOnFire.com - cool to finally be interviewed by JLD on EOFire.com to talk about a new project he, Antonio Centeno, and I co-founded in 2014 (highspeedlowdrag.org)
What was supposed to happen?
The goal I set for 2015 was to put podcast interviews and other types of features on the backburner to focus on content creation.
What did happen?
Total Platforms I Was Featured or Interviewed on in 2015
I was mentioned, quoted, or featured in so many places I lost count. I'm not saying that to be cocky, but because it's true and I have a terrible memory (early onset Alzheimers? Time will tell).
Here are the bigger ones that stand out this year:
BusinessInsider.com - on how I was able to travel around the world while running multiple businesses
Forbes.com - on the success of Dan Norris' "The 7 Day Startup" and "Content Machine"
AuthorConf - I was a featured speaker at AuthorConf 2015 next to some seriously big names like Tucker Max, James Altucher, Tim Sanders, and more. My presentation was also one of only a handful that was voted "best of" and given an encore share. I think it's because my voice is intoxicating. What do you think?
Goinswriter.com - co-wrote this piece on how we launched "The Art of Work" to USA Today Bestseller
Did I achieve my goal?
Yes...I guess so. I am proud to have been a featured speaker on a big summit and to have been mentioned in more mainstream media. There's a certain amount of social proof that comes with being mentioned in Forbes or Business Insider, even though my personal belief is that it doesn't matter...but that doesn't change the fact that it does matter to mainstream readers.
In fact, I remember finding it funny that my Business Insider article got so much attention, likes, and sharing on social media, but the articles I write for Tommorkes.com, which are 10x more in depth and useful, might get a quarter of the attention (mind you, I'm only measuring the response on my personal social media channels, so not like I'm reaching a broader audience in this case). Alas, this is life, and the masses feel more comfortable sharing and liking an article from a mainstream channel than a personal blog. I can't change it, so I'll go with it.
So, in that regard, 2015 was a success.
Marketing and promotion goals for 2016
I definitely want to be featured on more stages, digital or physical, in 2016. The reception to my presentation at AuthorConf was amazing. I got so many emails saying how grateful people were for the content, and my approach to book marketing.
(By the way, if you sent one of those emails: thank you. You might not believe it, but many of us who write / work online don't get much feedback so it's always inspiring to receive positive, constructive, kind words)
Beyond the kudos, this event led to a ton of new people finding me (over 1,000), and diving into my book publishing content, which was really humbling.
So my goal for 2016:
speak at 3 events in great locations
speak at a few more virtual summits or conferences
If you want a speaker for your event, or want to suggest me as a speaker at an event coming up later this year, shoot me a message.
And then prepare to have your brain melted.
Product Launches

Background: Projects Launched in 2014
I launched a lot of stuff in 2014. Here's what I remember (because I wrote it down), in chronological order:
Bootstrapped (scrapped)
PWYW Consulting
The Flight Formula (scrapped)
High Speed Low Drag
High Speed Elite v1.0
Publishers' Empire (pre-orders)
Collaborate (crowdfunded through Publishizer.com)
2014 was a year full of experiments. Basically everything I did that year was something I was doing for the first time, from publishing "The High-Performance Athlete" (book), publishing Bootstrapped (magazine), crowdfunding "Collaborate," to launching the mastermind High Speed Elite, to launching the book "The 7 Day Startup" - I really had no place doing any of these things, but I did them anyway. Good thing, because many of them wound up incredibly successful (while others crashed and burned).
All in all, 2014 was an incredibly powerful year that set me up for success in 2015...
What was supposed to happen?
For 2015, I just wanted to double down on what was working, reduce taking on too many more new projects, get Collaborate out the door, turn Publishers' Empire into a 6-figure course, and relaunch High Speed Elite bigger and better.
What did happen?
Projects Launched in 2015
In chronological order:
Do You Talk Funny? (book launch)
Publishers' Empire (course and coaching program launch)
High Speed Elite v2.0 and v3.0 (mastermind, course, and program launch)
The Art of Work (book launch)
The Growth Hacker's Guide to the Galaxy (crowdfunding campaign)
Content Machine (book launch)
Email Marketing Demystified (book launch)
Military Veterans in Creative Careers (podcast and new platform for veterans)
The Lifetime Money Machine (book launch)
ConvertKit Course (course launch)
Hack the Entrepreneur (book launch)
Product Launch Highlights in 2015
Each of the projects I worked on and launched is worth diving into, but alas, there is only so much space, so I'll reflect on a few here and why I'm proud of them:
Publishers' Empire
I've seen what's out there when it comes to self-publishing courses and I can say this: without a doubt, Publishers' Empire is the most comprehensive, cutting edge program out there for aspiring publishers (self-publishers, indie-publishers, and arguably even traditional-publishers).
We've also had some crazy successful book launches from people inside PE, including:
The End of Jobs by Taylor Pearson. If you haven't read this book yet...get it now. Trust me. This is where the world is going and you owe it to yourself to be at the forefront.
30 Under 300, a cookbook by Kim Capella. Kim is one of those rare, insanely nice and genuine people that really wants to help you be healthy and happy. She does this by teaching people how to cook / bake for a healthy lifestyle. This was her first in-print book and the reception has been amazing.
Gifted by Grief by Jane Duncan Rogers. Jane experienced the loss of her husband several years ago, and this is her memoir. The book itself received national media attention in England.
Joyfully Jewish, an adult coloring book by Rae Shagalov. That's right - we don't just teach how to make non-fiction books a huge success. Rae's book proves that there are so many unique opportunities out there no matter what niche or genre you're interested in.
One of the Few by Jason B. Ladd. This is the story of one marine fighter pilots reconnaissances of the Christian worldview. Hard hitting and poignant, and a testament that self-published books can look, feel, and read like traditionally published books when you put them together the right way.
If you'd like to have this success with your book, sign up for Publishers' Empire here.
Goals for Publishers' Empire in 2016
I really believe Publishers' Empire could be (and should be) the leading platform to launch your books (oh, did I mention I help each student develop their strategy and review their launch plan before they launch?).
Training and tutorials are great (and PE has tons of those - over 120 HD videos at this time), but I think it's feedback, guidance and direction that really matters - and you get that directly through Publishers' Empire (with almost weekly calls and direct access to me).
So I'm aiming to reach 300 new students in 2016.
Want to be one of them?
Sign up here to get access when we open back up later this month.
High Speed Elite v2.0 and v3.0
Since our collaborative launch in 2014, John, Antonio, and I have relaunched High Speed Elite twice more, with each launch bringing in new, amazing students who are ready to start or grow their businesses.
The first High Speed Elite program was certainly a success, but each subsequent launch has been equally successful, but faster and easier (because we've built the platform, the program, etc. - and relaunching a successful program is much easier than bootstrapping one from scratch).
This is the nature of collaboration and why I'm such a big proponent of it.
We've now mentored close to 30 military veterans to help them plan, create, and grow their businesses, including:
Dave Chesson who created Kindlepreneur.com (a website and brand that I'm certain you're going to see a lot of in the next few years).
ZacBob of CrowdfundGenius.com (who is rocking it with some really amazing crowdfunding campaigns as we speak)
John Claymore of Claymorebrothers.com (who has completely bootstrapped a bespoke suit company while active duty in the Canadian military...that's right, we're not exclusive to USA military only!)
And so many more, some of whom have yet to launch, but will do very big things when they do.
I believe deeply that military veterans will be the next movers and shakers of the business world for a number of reasons that I won't get into here...but needless to say - I can't wait to see these different ideas mature and grow.
If you're a veteran and want to start or grow your business to 6-figures or more in revenue, sign up here.
Goals for High Speed Elite in 2016
We want to make High Speed Elite the leading program for veterans starting and growing 6-figure businesses through the power of new media (i.e. podcasting, blogging, YouTube, etc.).
So far, the track record is looking pretty good, and we hope to expand the program to more students this year.
Collaborate
Wow, so this thing has been a LONG time in the making.
But it's finally finished and being shipped out to pre-order contributors this month (Jan 2016).
That said, I'm super proud of Collaborate.
It's my longest, most in-depth, and arguably, most important book to date.
In it, I show struggling solopreneurs (and aspiring entrepreneurs), a faster, better, easier, and more enjoyable way to build a business online. How? You guessed it - through collaborating with industry leaders and experts to create, market, and launch digital products online.
That's what I did with High Speed Elite and I feel like I cheated the system when I did it...but it also helped me skyrocket my success and propel me into the limelight faster than anything else could have...and now I want to show you how to do the same.
Here are a few glamour shots compiled into a GIF to leave you moist wanting: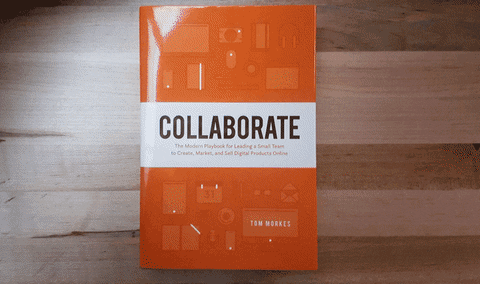 If you'd like to get access to Collaborate when it launches end of Jan / beginning of Feb, sign up here.
Goals for Collaborate in 2016
I want this, along with my work on Pay What You Want Pricing, and strategic platform building and book launches via Publishers' Empire, to be the core, foundation content of Tommorkes.com and everything I teach.
My hope is to transition the conversation in the online business space away from solo, time-sucking, wasteful execution (which solopreneurship always is, by its nature), to how we can do, be, and have more through cooperating, collaborating, and co-launching with others.
If you'd like to change the online landscape with me, start here.
Financial Goals / Income
In 2012, I just wanted to overcome my fear of writing and publishing.
I ended up publishing dozens of essays, writing and publishing The Art of Instigating, and got over my fear.
In 2013, I wanted to see if people would pay for my work.
I ended up releasing a couple small ebooks and making several thousand dollars...enough to prove that maybe, just maybe, it would be possible to do this stuff full-time.
In 2014, I wanted to grow my audience and create a sustainable, liveable income (at that time, something around $30,000 - $40,000 would have been nice).
I ended up doing just that, and also become somewhat of a thought leader on pricing, thanks to my book The Complete Guide to Pay What You Want Pricing, and took on a lot of consulting work.
In 2015, I wanted to double down on everything I had done successfully in 2014, including doubling my income.
I did just that, breaking $100,000 in revenue for the year; something that seemed like a pipe-dream in 2012.
I'm now happily making more than I did in the Army, doing work that I truly enjoy, helping people I truly enjoy helping, and ultimately making a difference in the lives of my clients, students, and readers.
Income goals for 2016
In 2016, I intend to double down on Insurgent Publishing and turn it into a thriving business that generates over a quarter million in revenue.
Lessons learned from 3 Years of Hustle
If you think I'm bragging when I bring up the numbers above, you're missing the point.
I don't share these numbers to brag (I know people doing 10 times better, so it's hardly something to brag about), but to highlight a very important (albeit often ignored) point:
Life will give you what you ask of it, but only if you put in the hard, creative work, day in and day out, until you get it. [click to share]
I also think now is an important time to reflect on lessons learned from the past three years of hustle, culminating in a stellar 2015.
Here goes:
Lesson 1: nothing happens overnight
Look at the timeline above.
I started this...thing (whatever you want to call it - it certainly wasn't a business back then) in 2012. At the end of 2015, I finally have some good traction and faith that I'll be able to do bigger and better things next year.
That's 3 years of grinding it out, working ridiculous hours, doing things that were scary, confusing...all with no certainty of ever receiving a payoff for my work.
Bottom line: nothing happens overnight - NOTHING.
And anyone that bemoans their situation but hasn't spent years aggressively pursuing a better end state isn't worth the time of day; don't let these beautiful losers suck you in; stay far, far away from them.
Lesson 2: worthwhile things are uncomfortable
If you want a life of comfort, go for it.
Now, while I doubt you'll ever achieve that if that's your goal (comfort makes people weak, and weak things break, and breaking isn't comfortable), I would never tell you to do anything less than what you want.
But if you want a life of freedom, profit, and the potential to positively impact you family, neighborhood, or those who matter most to you, then you must accept this fact:
Worthwhile work is hard.
If it weren't, then everyone would do it, and it wouldn't be worthwhile anymore, would it?
The past three years have not been easy. They've been fun, and exciting, and exhilarating at time (between the dips), but it's never been a cake-walk.
90% of the time I felt like I had no idea what I was doing and that failure was just around the corner.
In an Entourage episode (in the first couple seasons, when it was still good), Gary Busey shows up at an art gallery and explains his art piece about the discombobulated man. He asks the rhetorical question, what is "emotional confusion," and then answers:
"It's like running naked through a cornfield backwards at midnight."
That's also how it feels to do any creative, entrepreneurial work (and how I felt most of 2013 - 2015 while building Insurgent Publishing).
No, it's not comfortable. But that's what makes it lucrative...if you can stick it out.
Lesson 3: luck has nothing to do with it...and everything
A lot of people I run into get angry at those who succeed, online or off, making up conspiracies as to why they ended up where they did, and excuses for why they did not reach that same level of success (interesting to note the blame never lies with the individual complaining...but I digress).
Luck is a word that is thrown around a lot to describe those who have hit some (at least superficial) level of success, to diminish the value of what they've achieved.
I would speak to this, but Peter Dinklage says it better:
"I hate that word - 'lucky.' It cheapens a lot of hard work...Saying I was lucky negates the hard work I put in and spits on that guy who's freezing his ass off back in Brooklyn. So I won't say I'm lucky. I'm fortunate enough to find or attract very talented people. For some reason I found them, and they found me."
Amen.
Luck - at least the way the majority of people think or define the word - is not what makes someone successful.
But then, that's not to say luck has no part in your work.
I'm reminded of a quote from one of my favorite movies of all time: The 13th Warrior.
In The 13th Warrior, a group of 12 Norsemen (and one Arab - 13, get it?) are sent to help a tribe of their allies who are under attack in a distant land.
When they finally arrive, the town is in disarray and almost destroyed. Buliwyf, the leader of the 13 warriors, engages with the king of the land, get's a back-brief on everything that's been going on, and about the terrible enemy they have to face. At some point, the king's son interjects:
Kings Son: [Speaking of Buliwyf] This gentleman has the look of a great warrior; no doubt he's very brave. But to face the Wendo [the enemy], he'll need some amazing luck.
Buliwyf: Luck often enough, will save a man, if his courage hold.
Take that in for a second:
Luck often enough, will save a man, if his courage hold. [click to share]
Every truly successful person I've met in life (true success: more than just financial security...) has had to overcome some form of adversity. Sometimes years of it.
Did luck play a factor?
Of course...but the luck only showed up because they had the courage to stand firm when things went south.
In other words:
If you want luck, start with courage.
Lesson 4: everything in life compounds
The Slight Edge - one of the most powerful books I've ever read in my life. If there's one way to get 2016 off to a great start, it would be to get this book now, and read it in the next 24 hours (it's short). Then put it to work.
The premise of the book is simple yet profound:
Successful people do simple things that are easy to do.
But wait, if they're simple and easy, why do we not see more people succeed?
From the book:
Fundamentally, we all take pretty much the same actions every day. We eat, sleep, think, feel, talk and listen. We have relationships and friendships. We each have twenty-four hours a day, 8,760 hours a year, and we each fill these hours one way or the other with a sequence of little tasks and actions, any one of which is seemingly insignificant.

Gold medal marathon runners eat and sleep. So do people who are thirty pounds overweight. Successful entrepreneurs think and feel and have relationships with other people. So do those who are unemployed or even living on the streets. People who make lots of money read books. People who are broke read books, too.

Winners and losers both do the same basic things in their lives, day in and day out. Yet the things winners do take them to the top, while the things losers do take them down and out.

So what's the difference?...

The difference that will make all the difference between success and failure, between achieving the quality of life you want and settling for less than you desire and deserve, lies one hundred percent in which of those little, 'insignificant' actions you choose to do.

Here's the problem: every action that is easy to do, is also easy not to do....

Why are these simple yet crucial things easy not to do? Because if you don't do them, they wont' kill you...at least, not today. You won't suffer, or fail or blow it - today. Something is easy not to do when it won't bankrupt you, destroy your career, ruin your relationships or wreck your health - today.

What's more, not doing it is usually more comfortable than doing it would be. But that simple, seemingly insignificant error in judgement, compounded over time, will kill you. It will destroy you and ruin your chances for success...

That's the choice you face every day, every hour:

A simple, positive action, repeated over time.

A simple error in judgement, repeated over time.
Every day for the past 3 years, I've taken small actions, in and of themselves, that are insignificant; a blog post here, a personal email there, a call with a potential client...
Drip, drip, drip...
Another blog post, another email, another connection...
Drip, drip, drip...
Three years of taking small, seemingly insignificant, positive action.
Drip, drip, drip...
And three years later and we're on track for a quarter million in 2016.
Everything you do in life compounds.
Which direction are you headed?
2015 Year in Review - did I accomplish my goals?
To iterate, here were my 2015 goals:
Travel around the world...again -CHECK!
Double my income from 2014 -

CHECK!

Free up more time for relaxing and enjoying life while simultaneously focusing on fewer projects with a bigger return - Not quite, but close...
My Goals for 2016
1. Hire full-time US based staff
Danny Iny made a really big impact on me at his meetup in Austin, TX this past fall. Besides showing how to properly organize a company for 7-figure growth, he explained an important principle: Invest for where you want to be, not for where you are.
In other words, if don't invest in things that will grow your company until you have enough (whatever enough is) money, you will dramatically slow your rate of growth. Instead, invest where you need to invest to create the growth you want, even if it means narrowing your current profit margin.
I finally dipped my toes into the idea of investing for growth in 2015, hiring my first two full-time virtual assistants, and multiple part time contractors.
That was scary at first...
But then I saw the impact:
I was able to clear up more of my time for fun or profit
I reduced my time on low-impact activities (like scheduling calls)
I was able to create faster and better with the right people in place helping me
That said, while hiring VA's, contractors, and part-time employees is great, you can only go so far if the way you stay a lean organization is to skimp on people.
My belief is that partners and full-time employees will always perform better than consultants and part-time contractors (hat-tip to Danny Iny for making this abundantly clear to me at his Austin, TX "Seven Figure Systems" event - priceless!).
My goal for 2016 is to hire at least 2 full-time US based staff to help improve what we do at Insurgent Publishing, and create 10x more value for our clients.
I'm actually halfway there, as we've recently added Rachel Winstead to the team as our new Operations Officer / Chief of Author Success. So if you work with Insurgent Publishing, you'll be fortunate to get to work with Rachel directly on your next strategic book or product launch. Woohoo Rachel!
2. Continue to work with the best in the world
The list of authors and creators I've gotten to work with has been pretty amazing. I want to expand our clientele this year, focusing on amazing people with amazing platforms.
We're off to a great start with John Lee Dumas of EOFire; his new book The Freedom Journal may very well set a new Kickstarter crowdfunding record for an individual book.
My ultimate goal would be to work with no more than 20 rockstars this year on some form of strategic book or product launch.
So if you're interested in selling over 10,000 books this year, or launching / scaling a 6-figure course, program, or membership site, hit me up here.
3. $250,000 revenue
Hiring full-time staff, upgrading software, and actively managing multiple projects is time and money intensive. To cover payroll, benefits, perks, company trips to Bali, and more means we need to generate a substantial amount of money. I'm not too worried as I believe we'll be able to generate at least 10x that amount for our clients, and so capturing that bit of profit will not be impossible.
Challenging, but not impossible. 🙂
Your Turn
Okay, enough about me.
Your turn:
Did you accomplish your goals in 2015? Why / why not?
What are your goals for 2016? Share your top 3 goals below and let's see if we can't help one another out
The Resistance is here to back you up and hold you accountable, so share your goals and ideas with us!